NEWSLETTER
Second Sunday of Lent (Year B)
Sunday 28 February 2021
Please contact the parish to receive the newsletter by email each week.

Message from Canon Kristian
Dear Brothers and Sisters
The first week of Lent has flown by and the second week of our Lenten program of spiritual renewal starts with the proclamation at Mass of the Gospel of the Transfiguration of the Lord.  This not only gives us the encouragement to keep our eyes fixed on the goal of our journey, which is the celebration of the Paschal Mystery, the death and resurrection of Christ, at Easter.  It also reminds us that the aim of our Lenten practice of penance and of the whole Christian life is centred on the power of grace to transform us ever more clearly into the likeness of Christ.  When this grace is at work in our lives, our words, our actions, our whole being becomes more Christ-like, called – as each and every one of us is, without exception  – not only to experience in ourselves the joy and hope-filled love of our new life in Christ, but also to show the compassionate and transforming face of Christ to the world, particularly to the most needy, vulnerable and marginalised of our world.  Let us pray that our Lenten discipline will convert, transform, enlighten and enlarge our hearts and minds, so that we might truly live and act with the mind of Christ:
"So if in Christ there is anything that will move you,
any incentive in love, any fellowship in the Spirit, any warmth or sympathy
— I appeal to you,
make my joy complete by being of a single mind, one in love, one in heart and one in mind.
Nothing is to be done out of jealousy or vanity;
instead, out of humility of mind everyone should give preference to others,
everyone pursuing not selfish interests but those of others.
Make your own the mind of Christ Jesus:
Who, being in the form of God, did not count equality with God something to be grasped.
But he emptied himself, taking the form of a slave, becoming as human beings are;
and being in every way like a human being, he was humbler yet,
even to accepting death, death on a cross.
And for this God raised him high, and gave him the name which is above all other names;
so that all beings in the heavens, on earth and in the underworld,
should bend the knee at the name of Jesus and that every tongue should acknowledge Jesus Christ as Lord,
to the glory of God the Father"

(Philippians 2:1-11)
Thank you to all those who are contributing to the 400,000 steps CAFOD "Walk for Water" initiative, either as part of the Parish Team of walkers or by donating money.  Even though we are only just starting the second week of Lent, we have already raised £615!  Although our present parish goal is £750, I am wondering whether we will be able to achieve a total much greater than that by the end of Lent.  Your commitment and amazing generosity so far suggests that we will. As you know, it is for an extremely necessary cause – the provision of clean water for that one-third of our human family who do not have access to that basic human necessity and human right.  Don't forget to encourage your friends to donate too, if they can!
You will see that we are in the process of preparing a group of our young people for the Sacrament of Confirmation. We are privileged that Bishop Mark will be coming to our Parish on Pentecost Sunday itself, 23 May, – the very day on which we celebrate the descent of the Holy Spirit on the apostles – to celebrate Mass and to confer the Sacrament.  It may be that some of our adult parishioners, for a variety of reasons, did not receive the Sacrament of Confirmation when they were younger.  If you fall into this category, this is a golden opportunity for you to complete your Christian initiation and to be confirmed.  The fact that you might not have been confirmed earlier is no cause for shame and so I encourage you, if you have not been confirmed, to have a word with me, or with Deacons Michael or Peter, or to leave a message with Rosie at the Parish Office, so that we can see how best to prepare you to receive the Sacrament.  You will not be committing yourself to anything by making contact. It is just important to start the conversation and see whether it is the right thing for you to do.  I look forward to hearing from you.
In order to respond to the need for material assistance and for human contact during lockdown, the local churches, Tiverton Town Council, Tiverton Volunteer Force and CHAT have banded together to provide a free Lunch on the Go from Monday to Friday at various venues in Tiverton.  Further details about the start dates and places can be found in the Newsletter.  This shows what cooperation between groups can make happen, and it is responding to a real need in the community.
Thank you to Monika Manser for her helpful leaflet for lectio divina on this Sunday's Responsorial Psalm.  The access details for this week's Zoom Coffee Morning on Thursday at 11am are available from the parish office.
Please continue to keep safe and well.  The general return of our children and young people to school at the beginning of March will hopefully herald the gradual re-opening of society and the chance for us to rebuild the structures and initiatives of our parish life which we have had to learn to live virtually for almost a year.
You are all in my daily prayer
May God bless you and those who are dear to you
Canon Kristian
Coming to Church during the National Lockdown                                  
At this critical time in this wave of the Covid-19 pandemic, in order to halt the spread of the virus, the central message is STAY AT HOME and only go outside for essential journeys.  This applies above all to those who are especially vulnerable to infection – the elderly and those with underlying medical conditions. If you come within this group, please consider staying at home and taking part in Mass online or on the telephone, or simply join us in spirit in silent prayer or by reading the Mass texts.
When in church, please observe the social distancing rules, wear a face covering (unless you are exempt) and sanitise your hands frequently. Refrain from engaging others in extended conversation and maintain an appropriate distance from others at all times, both inside the church and outside in the carpark.
If you would like to come to Mass at the weekends, please contact the Parish Office to book a place, either by telephone on weekdays between 10.00am-1.00pm, or by email. There is no need to book a place at a weekday Mass but, on arrival at church, please give your details to one of the stewards.
A Wealth of On-line Resources for Lent 2021
A helpful selection of national and diocesan resources for Lent put together by the Diocesan Vicariate for Evangelisation and Catechesis has been added to the parish website under the Lent 2021 page.  Caritas Plymouth has also developed some inspiring resources for individual, group and parish reflection during Lent 2021, including podcasts, links to websites and ideas for reflection, with a focus on Catholic Social Teaching.
CAFOD Lent Fast Day
The CAFOD Lent Fast Day took place last Friday. Please return your donation envelopes this weekend (additional envelopes are at the entrance to church). You can also donate using our contactless facility or online at www.cafod.org.uk/give.  Finally, there is also the option to text LENT 10 to 70460 to donate £10 or LENT 20 to donate £20 etc. This text automatically opts you in to hear more about CAFOD's work and fundraising via telephone or SMS.  Text LENTNOINFO to 70460 if you do not wish to receive this information.
The second of the Lenten series of CAFOD News Updates from our Parish CAFOD Group is available on the parish website here.
CAFOD Lent Challenge – Walk for Water – 400,000 Steps
We have formed a parish team to take on the CAFOD "Walk for Water" challenge – 10,000 steps a day, every day, for 40 days.
A Just Giving Page for the Parish Team effort has been set up and is open for your donations to support their effort on behalf of the parish.
Preparation for the Sacrament of Confirmation
Bishop Mark will be coming to our parish on Pentecost Sunday, 23 May, to celebrate the Sacrament of Confirmation.  We are both delighted and proud that a group of our young people are preparing to receive the Sacrament, but it is also an opportunity for any Catholic adult who, for whatever reason, did not receive the Sacrament when they were younger to be confirmed.  If you are one of those adults, perhaps God is inviting you now to complete the Sacraments of Christian Initiation!  Even if you are unsure whether you want to do this, do please have a word with Canon Kristian anyway.  There's nothing to lose…and much to be gained, as they say!
World Day of Prayer
The World Day of Prayer (formerly the Women's World Day of Prayer) takes place this Friday, 5 March. Unfortunately, due to Covid restrictions, there cannot be the usual shared Service of prayer with our fellow Christians in the locality. However, this year the prayer material comes from Vanuatu and the people of Vanuatu ask us to pray with and for them at 2pm on Friday, if possible. Go to www.wwdp.org.uk to find a recording of the Service in Vanuatu, as well as for details on how to make a donation online. Cheques, made payable to WDP, can be sent directly to: WDP, Commercial Road, Tunbridge Wells, Kent TN1 2RR.
Human Rights Abuses and the UK Trade Bill
Women in the Uyghur Muslim community in Xinjiang, China, are being subjected to forced abortions. Lord Alton is currently championing a new amendment to the Trade Bill, to help put international pressure on the Chinese Communist Party to stop this practice, as well as wider human rights abuses that evidence shows is being perpetrated against the Uyghur community. The amendment passed in the House of Lords this week and is likely to be voted on in the House of Commons shortly.
If you would like to email your MP asking them to support the amendment, you can do this easily using a tool which has been set up on the Genocide Response Campaign website.
Mary Walker RIP
Please pray for the repose of the soul of Mary Walker, whose funeral will take place this Monday, 1 March, in the Church of St Mary the Virgin, Calverleigh, at 2.00pm, followed by burial in the churchyard.
Free LUNCH ON THE GO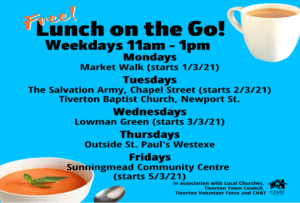 Holy Mass and Events this week
 Saturday 27 February – Lent Weekday
Holy Mass at 6.00pm (Vigil Mass)
Sunday 28 February – Second Sunday of Lent
Holy Mass at 10.00am Pro Populo
Holy Mass at 11.30am (St Boniface)
Tuesday 2 March – Lent Weekday
Wednesday 3 March – Lent Weekday
Holy Mass at 12 Noon (St Boniface)
Thursday 4 March – Lent Weekday
Coffee Morning at 11.00am on Zoom
Holy Mass at 6.00pm
Friday 5 March – Lent Weekday (World Day of Prayer)
Saturday 6 March – Lent Weekday
Holy Mass at 6.00pm (Vigil Mass) Anthony Foran RIP
Please remember in your prayers our young people
preparing for the Sacrament of Confirmation.