NEWSLETTER
26th Sunday in Ordinary Time (A)
Sunday 27 September 2020
World Day of Migrants and Refugees
Please contact the parish to receive the newsletter by email each week.
Message from Canon Kristian
Dear Parishioners
I hope you and your loved ones are all safe and well as we enter another period of uncertainty due to the spread of COVID infections in many parts of our country. One of the most important aspects of being a parish community is our commitment to each other so, along with keeping one another in our prayers, let us continue to maintain contact with each other and provide what support and encouragement we can.  Our faith also calls us to look beyond our community to offer care for our neighbour, whoever she or he may be, particularly those who are most vulnerable at this time.  I know that this is something which we as a parish community are committed to doing.
In this Season of Creation we are thankful to God for the abundance of nature's gifts that we enjoy in this part of the world.  So it is very sad to see that, because of the rise in infections, some people are starting once again to "panic buy" and stockpile basic items of food and toilet paper.  When this happened when COVID first became a real danger, this behaviour could be given the benefit of the doubt, as it was a fearful situation we had not faced before.  However,  our experience has shown us that there is more than enough of these items to go around and that to act in this way is not only a scandal and a worrying sign of the pervasive "me first" mentality of our Western society, but impacts on those most vulnerable and elderly, depriving them of their just and rightful share in these basic necessities.   As we examine our own attitude towards – and consumption of – the fruits of the earth provided by God's providence, let us not be drawn into this unchristian behaviour and give clear witness that we are more than satisfied to receive what we need for today – as last Sunday's Gospel invited us to be and the very prayer that Our Lord taught us makes clear when we ask for our "daily bread" – and that we possess an unshakeable confidence that God will provide for what we need tomorrow and over the following weeks.  We are told in the Acts of the Apostles that, in the first communities of believers, everything was shared in common and that none of their members was ever in want as everything was distributed according to what each one needed (cf Acts 3:44; 4:32-35).  May we strive to put these principles into practice as best we can in our own local community and work for a fairer distribution of the gifts of the earth especially with regard to those living in poverty in all its many forms in our own country and in areas of the world blighted by famine and war.
Against this perspective, this Sunday is observed as the World Day of Migrants and Refugees.  There are over 41 million internally displaced persons (IDPs) in our world today, some of whom as literally being washed up on our own shores, having perished in the sea in their desperate attempts to reach a place a safety and welcome.  The theme of Pope Francis' Message for this day is "Like Jesus Christ, forced to flee. Welcoming, protecting, promoting and integrating internally displaced persons". After setting out the principles that should motivate us and all people of good will with regards to our attitude and outreach to migrants and refugees who are facing even greater challenges as a result of the impact of COVID-19, the Holy Father ends his Message with an invitation to us to reflection on the role of St Joseph in the flight into Egypt and to pray for his intercession.  He prays:  "Grant that we may experience St Joseph's protection and help.  May he, who shared in the sufferings of those who fee from the hatred of the powerful, console and protect all our brothers and sisters driven by war, poverty and necessity to leave their homes and their lands to set out as refugees for safer places…Grant to those who welcome them some of the tender love of this just and wise father, who loved Jesus as a true son and sustained Mary at every step of the way".  I strongly commend the Holy Father's Message to you and invite you to rake some time over the coming week to reflect upon them.
Amongst the other news you will read in the Newsletter, you will see that we are at last able to re-open our church in Cullompton for Mass.  I know that this will be joyful news for many of you.  As of next weekend, the 11.30am Mass on Sundays and the 12noon  Mass on Wednesdays will be transferred to St Boniface.  Due to the size and layout of the church, spaces for Mass are limited and, especially on Sunday, I would urge those who can travel to Tiverton to continue to do so to enable those in Cullompton who are unable to travel to attend Mass in St Boniface. If you can, do contact the Parish Office to let Rosie know that you are intending to go to Mass at St Boniface, so that she can make sure that there is a place for you. In accordance with existing regulations, we will need two stewards to be present at each Mass to ensure that we remain socially distanced and that the church is thoroughly cleansed after each Mass.  Please let Rosie in the Parish Office know if you are willing to serve as a Steward at either of the Masses at St Boniface.
We will also be introducing some music and a limited amount of singing by a small group of cantors at the 10.00am Mass at St James from this Sunday.  This will be done in accordance with the existing regulations so as to limit the possibility of the spread of infection.  The cantors will be seated at the far end of the church in the Lady Chapel and the church is well-ventilated.  We will obviously keep this under review as circumstances change.
Thanks as ever to Monika Manser for her helpful handout to enable those who wish to pray imaginatively with this Sunday's Gospel reading. If you would like to join in the weekly prayer meeting in Zoom to reflect on this with other parishioners due contact Monika  (monika.manser@btinternet.com) and she will give you the access details.
Finally, I make another plea for more volunteers to help Graham Parton with the Parish Website. Social media in all its forms has taken on a greater importance since the arrival of COVID in our community so we need to develop these platforms in the best and most positive way we can.
Be assured of my prayers for you all.
With every blessing
Fr Kristian
Masses and Events this week
Sunday 24 May – Seventh Sunday of Easter
Holy Mass without a congregation at 10.00am
Coming to Mass
Whilst we are limited in the number of people that can come to Mass due to COVID restrictions, please let the Parish Office know it you would like to come to a particular Mass, in order to be sure that there is a place. Sometimes there are spare seats at some of the Masses, but there is no guarantee that there will be a seat available.  You may make a "rolling booking" for a particular Mass but, if you do, it is important to let the office know if you are not able to come to a particular Mass, so that the place may be released for someone else.
Re-Opening of St Boniface, Cullompton
From next weekend, we will be re-opening the church in Cullompton for Mass.  The 11.30am Mass on Sundays and the 12noon Mass on Wednesdays will be moved from St James to St Boniface from then onwards. Due to the size of the church, space will be limited because of the requirement to social distance.  A maximum of 22 people, depending on family "bubbles" can be accommodated.  It is important to let the Parish Office know if you would like to attend Mass there, especially on Sundays.
First Holy Communion Preparation
The catechists will soon be making contact with those children and their families who were already preparing to receive the Sacraments of Penance and Holy Communion prior to the COVID lockdown.  Sessions will be arranged both online and in small groups to complete this preparation to enable the children to receive First Communion in small groups at Sunday Masses over the coming few months.
Although the new cohort will not start until the New Year, would parents who would like their children, aged 7 and over, to be prepared to receive the Sacraments of First Confession and First Holy Communion in 2021, please give their details to Canon Kristian or Deacon Michael, or directly to the Parish Office as soon as possible.
Preparation for the Sacrament of Confirmation
We are planning to start the preparation of those wanting to receive the Sacrament of Confirmation. If you are 13yrs or older – or have a young person of this age – and would like to be confirmed, please have a word with Canon Kristian or Deacon Michael, or contact the Parish Office as soon as possible.  Due to the backlog for Confirmation caused by the COVID lockdown, it is not possible to say for certain at this point when the Bishop will be able to come to the parish but we are hoping it will be either in late 2021 or early 2022.
Peter's Pence Collection
Next weekend we are being asked to hold the annual "Peter's Pence" Collection, normally taken at Masses on the Solemnity of Ss Peter and Paul.  This collection is our opportunity to contribute personally and directly to supporting the charitable works undertaken by the Holy Father Pope Francis.
The Season of Creation and the World Day of the Poor
During the Season of Creation we are being invited to take concrete steps to care for the gift of creation and for the Earth, our common home.  You can find useful information and resources on the Bishops' Conference Website, and the Diocesan Website and on Facebook, and at https://cafod.org.uk.  On Saturday 24 October, 10.30am-12.30pm Bishop Mark invites you to take part in an online event – How are we reaching out to the poor and marginalised? to reflect on World Day of the Poor. Read more about it and register to take part at Caritas Plymouth.  Booking is essential.
Harvest Bucket Challenge in aid of CHAT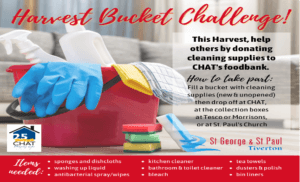 World Day of Migrants and Refugees 2020
The 106th World Day of Migrants and Refugees takes place this Sunday.  As the title of his annual message the Holy Father has chosen "Forced like Jesus Christ to flee".  The message, available to read here, focuses on the pastoral care of internally displaced people, who currently number over 41 million worldwide
One Hope Project – Exploring your relationship with God
Are you aged between 14 and 25? Would you like to work with One Hope Project to explore who God is and how God is part of your life?  There will be four sessions starting on Wednesday 30 September on Zoom from 7.30pm-8.30pm.  You will need to book in order to get the log-in details.  Feel free to bring a friend.  Email: saskia.hogbin@prcdtr.org.uk.
200 Club
Congratulations to Rosaleen Stephenson, who won the £30 prize, and to Jeanette Ingersent, who won the £20 prize, in the September draw. Those members who have been contacted about paying their dues, and who have not yet done so, are asked to make their payments as soon as possible.
Masses and Events this week
Saturday 26 September
Vigil Mass of Sunday at 6.00pm Pro Populo
Sunday 27 September – 25th Sunday in Ordinary Time (A)
Holy Mass at 10.00am Robert and Margaret Bolton RIP
Holy Mass at 11.30am
Tuesday 29 September – Sts Michael, Gabriel & Raphael, Archangels
Wednesday 30 September – St Jerome, Priest and Doctor
Thursday 1 October – St Thérèse of Lisieux, Virgin and Doctor
Friday 2 October – Guardian Angels
Saturday 3 October – Weekday
Vigil Mass of Sunday at 6.00pm
The Pope's Prayer Intention for October is for the laity's mission in the Church.  He asks us to pray that, by the virtue of baptism, the laity – and especially women – may participate more in areas of responsibility in the Church.